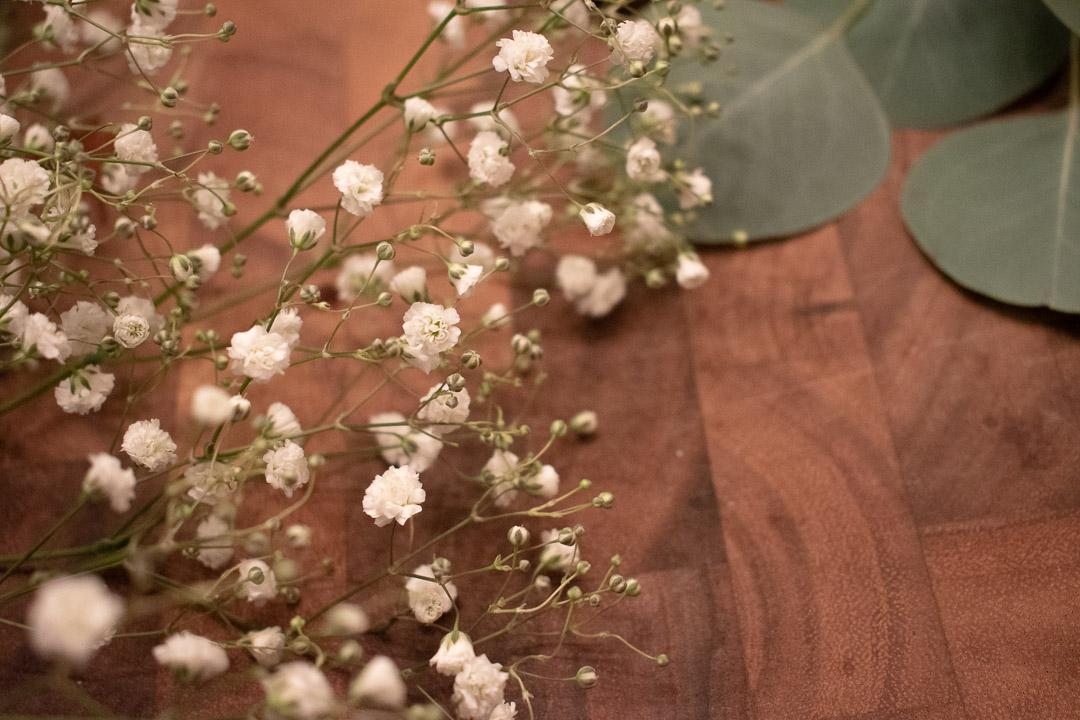 01 Feb

6 Ways to Make Your Bathroom Feel Like a Spa

I don't know about you but I'm down for a spa day any day! There's a reason spas feel so calm and relaxing, and who wouldn't love to have that same feeling at home? Here are a few ideas to make your own spa bathroom right at home!
Store Things in Glass Jars
I love keeping things stored in clear and accessible containers. It makes everything easy to find and it just looks pretty! One way to do this in the bathroom is by using glass jars. They usually come in a few sizes so you can mix and match based on what works for you. You can also use mason jars to store things like cotton balls, q-tips, and make-up sponges. I used this one to store my Epsom salts- which is also a great way to add a spa-like touch! Mine has peppermint oil which makes it extra relaxing to soak my feet in!
Add Flowers
It makes me so happy to have fresh flowers in the house and the bathroom is a great place to stash a tiny vase of them! I picked up some eucalyptus and baby's breath at whole foods and made a tiny bouquet to put in a mason jar. I like to keep the colors pretty neutral- plus eucalyptus always reminds me of our wedding day because we had it everywhere!
Bonus tip: hang a bundle of eucalyptus in the shower. When you turn the water on the steam will release oils from the eucalyptus and make is smell super refreshing!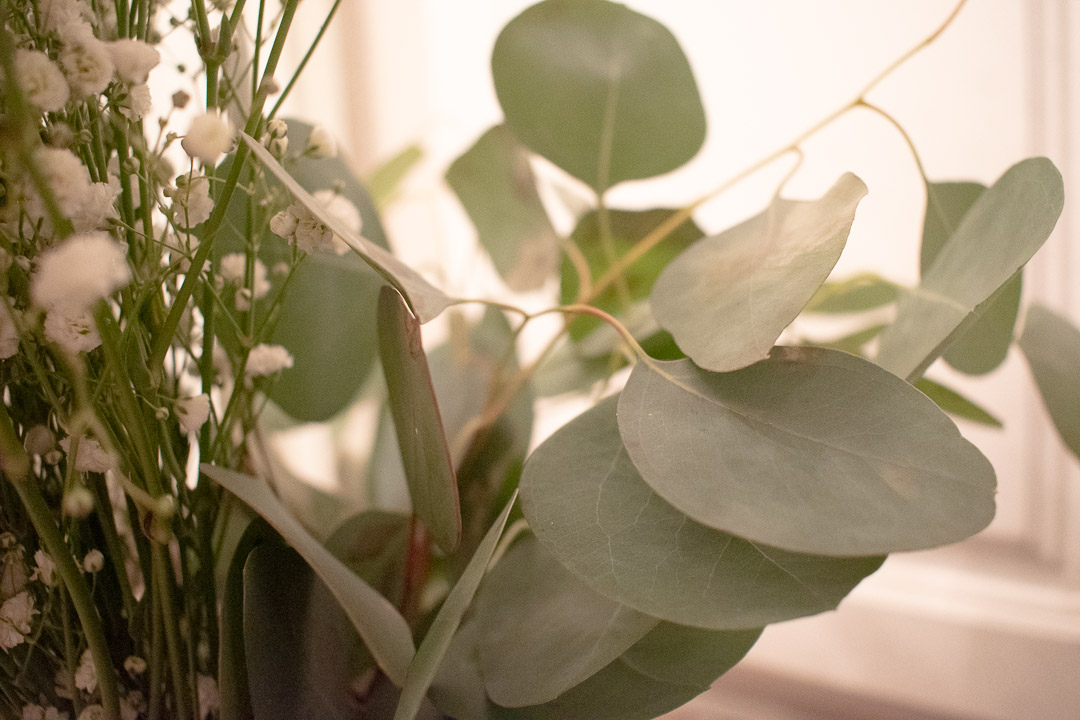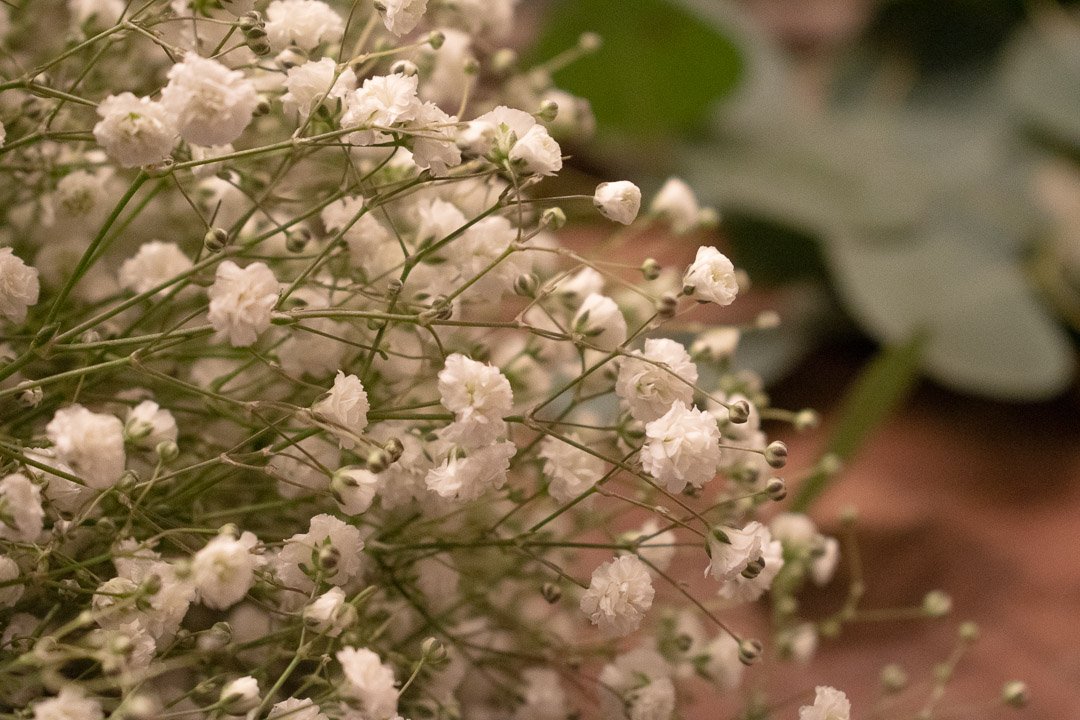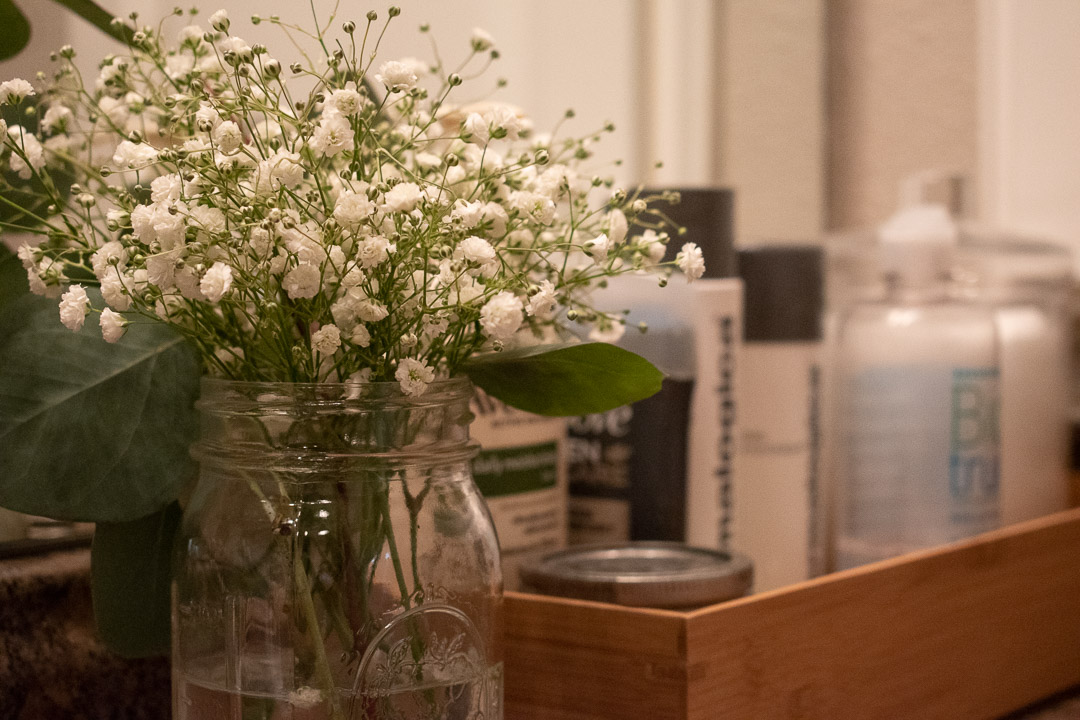 Store Towels in Baskets
One way we keep our linen closet organized is by storing our smaller towels in baskets. It makes them easy to get to and again- looks pretty and uncluttered! The wicker also gives a nice earthy touch to the space if you want to store them out in the open.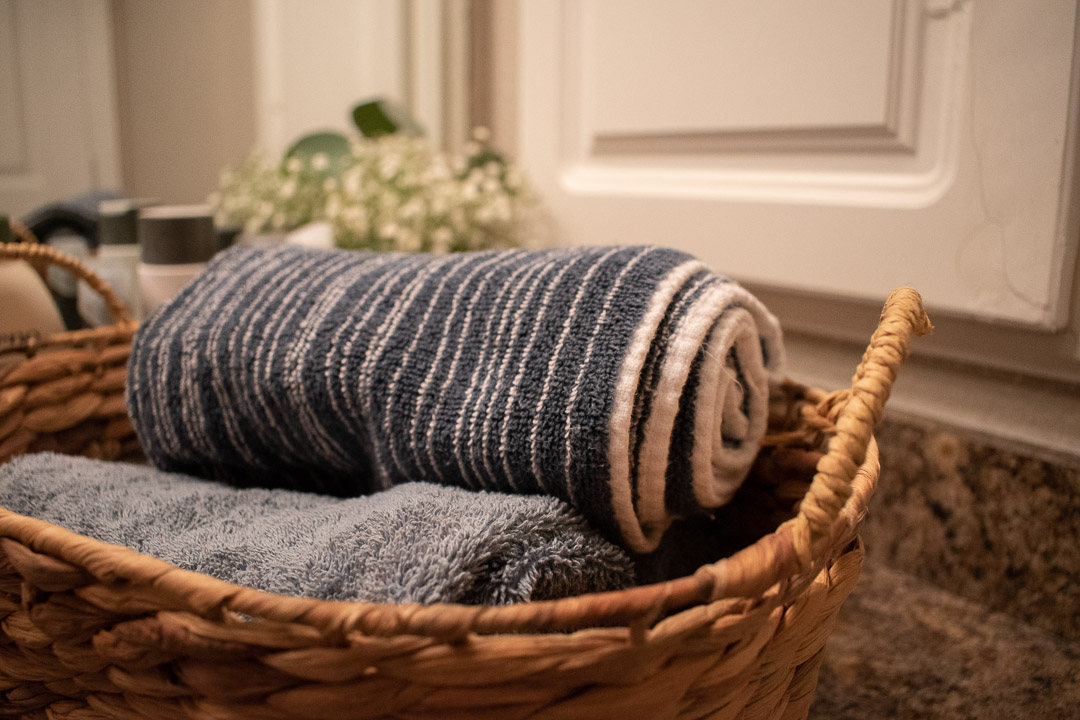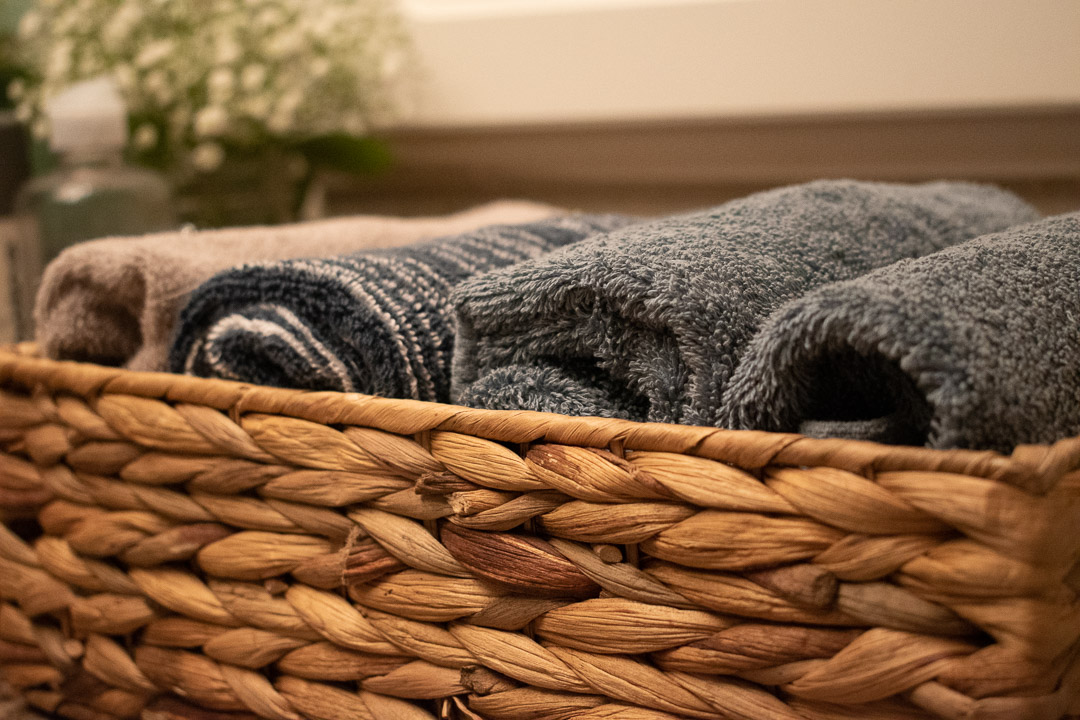 Use a Glass Soap Dispenser
Ditching your plastic soap dispenser instantly makes your bathroom feel like a spa or a high-end hotel! Plus it will look great next to all of your glass storage containers ;). It's also much more economical for us to just by the soap refills rather than a new bottle every time we run out!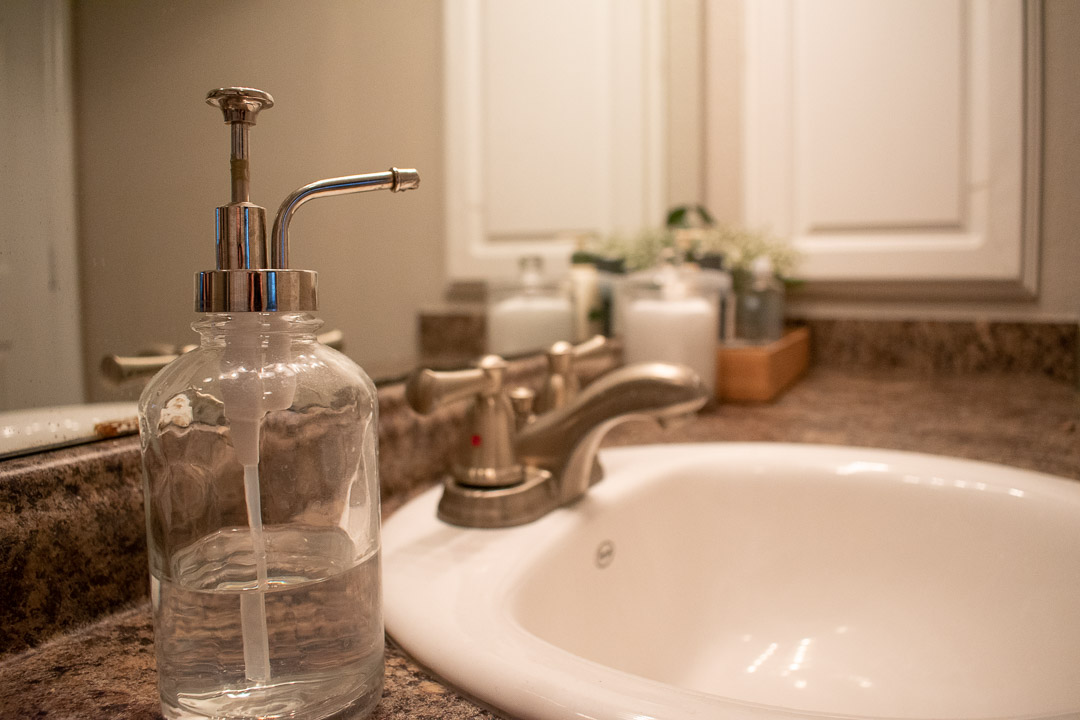 De-clutter
Limit the items you store on the counter to only things you use every day! This will create more visual space and clear off some counter space too. Store everything in a wood box or basket to keep it all in one place.
Use a Relaxing Color Scheme
We went for beachy colors like blues, soft green, and white. Try to keep the colors soft and unsaturated to create a relaxing atmosphere. Cool colors will actually lower your blood pressure and make the space feel brighter and more open!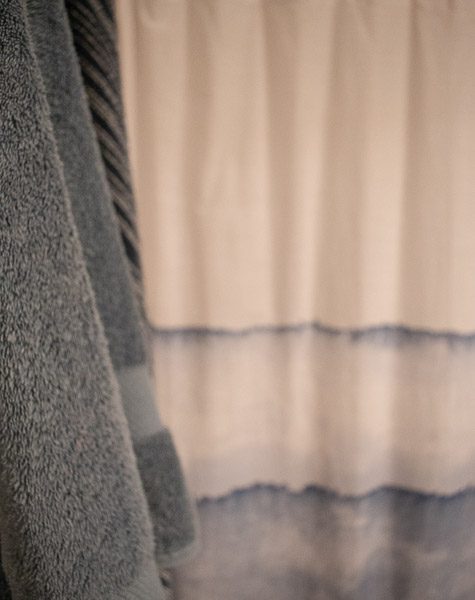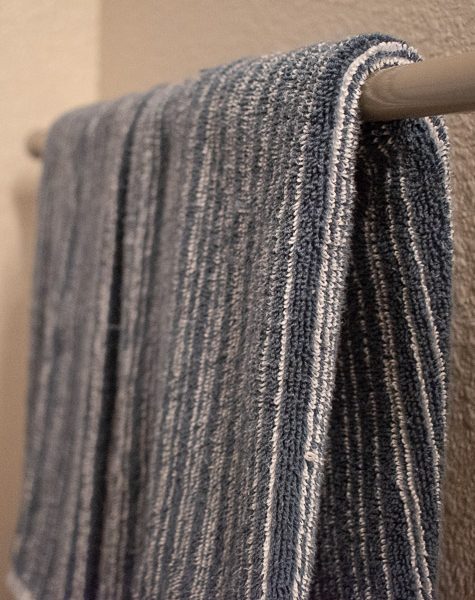 What it really comes down to is keeping things clean and natural! Clean is always relaxing in my book, and when you add it to a touch of natural elements you've got the perfect combination for a relaxing spa at home!
Which of these tricks is your favorite?